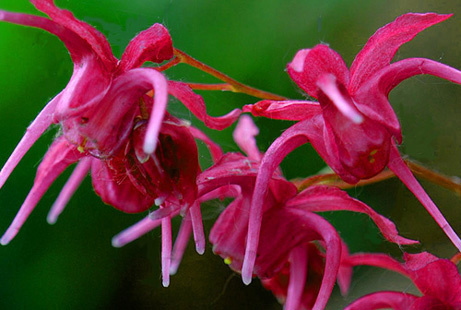 Also known as bishop's hat, spiderwort, barrenwort, fairy wings, or (yes, really!) horny goat weed, these little show ponies pull a load in garden beds or containers. Depending on the species or variety, the starlike spring blooms are a frothy eruption of white, purple, yellow, orange, red, pink, or multicolor - or any shade in between. The blooms give way to mounds of rounded, arrowlike, speartip, or sometimes spiny, blushed, or spotted evergreen or deciduous foliage, depending again on the species or variety. The list of possiblities is long, and we have many of them.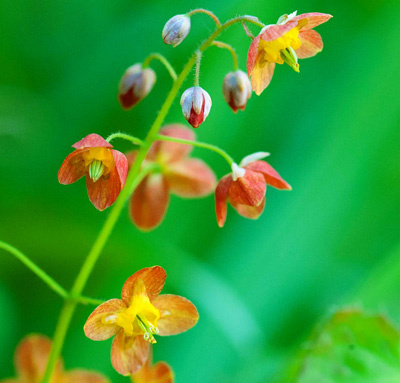 Practical objects of affection Many epimediums find homes as accent plants or treasured gems in beds or containers due to their alluring blooms, reliably interesting foliage, and ease of care. Some are more extravagantly beautiful than you dreamed of in your wildest fantasy, and at their peak seasons of interest for flowers or foliage draw gapes and gasps from gardeners and passersby alike. Loving them is as easy and emotional as a teenage crush - except in this love, you're not likely to lose. With epimediums, it just gets better and better.
Groundcovers A few types (mostly yellowish-flowering such as 'Sulphureum', colchicum, 'Frohnleiten', 'Black Sea', buff-bloomed cantabrigiense, and orange warleyense) have become popular as reliable polite groundcovers in shaded or bright and even difficult environments where their spring blooms, evergreen foliage, durability (including substantial drought tolerance), and spreading but noninvasive habits make them popular with designers and architects. Creamy flowered E. pubigerum and rosy red E. rubrum are popular groundcovers well suited to woodland or partially shaded locations.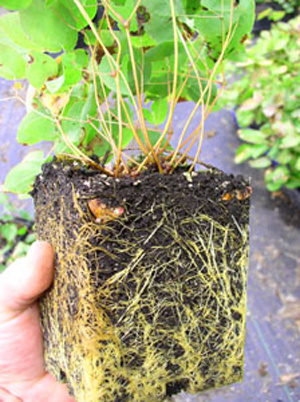 Typical epimedium care includes decent soil (compost is good), partially shaded to bright-but-not-baking light, and an occasional deep watering in summer. Some epimediums tolerate drought once established. Many aren't as drought tolerant as some people suggest. But it's easy to relax and enjoy any of them.
Epimediums grow slowly when young, so a decent-sized, garden-ready plant isn't cheap. Our 4.25" wide x 4.875" deep square pots are a happy combination of garden readiness and affordable pricing. We also grow several kinds in #1 (trade standard "1 gallon") pots to meet plan specifications.
To satisfy your plant lust or create a useful groundcover, epimediums!