Return of the awesome plants! Each February, we offer unusual, hard-to-find varieties at Seattle's Northwest Flower and Garden Show. These shows are an excellent chance to shove winter aside, kick off your garden season, and get bargain prices on wonderful plants that are
1) outstanding new introductions or rare heirlooms,
2) in high demand and limited supply, or
3) hardly ever available at all!
We offer scores of choice varieties in clean, easy-to-carry packages.
Visit Sundquist Nursery for terrific plants not found at your local nursery, but that are gorgeous and grow!
Feb. 22-26, 2017 - Seattle Northwest Flower and Garden Show booth 2144
This year we offer new varieties for reliability and a different look in your garden or pots! Many plants are widely marketed with little attention to how well they grow in the Pacific NW. Our focus is on varieties with demonstrated ability to grow here. A super way to gauge Pacific NW performance is to go with plants selected as Great Plant Picks. We'll have about two dozen of them. Other excellent widely adapted plants we offer are Perennial Plants of the Year and Hostas of the Year. Some super plants for our area are British Award of Garden Merit winners. Plantsman Nils Sundquist trials plants in the nursery gardens and has the experience to select the best with an eye to great plants that grow easily and well. Many of our varieties are new to commerce and simply haven't won their awards yet. When you shop at Sundquist Nursery, you can find what's new and what's tried and true, and choose plants with confidence. A great value for the money, our plants are often larger than those sold by others - if you can find them at all! Varieties are typically grown here for at least a year (often two to five years) before we offer them.
Easy-to-carry bare root plants at the thriftiest prices of the year!
Children 14 and under with a parent get a free plant - our gift to young gardeners! Just ask!
Spend $75 or more, receive a free heirloom Crocosmia 'George Davison', a gorgeous and durable performer - and a $10 value! This free plant is our gift to you for a happy successful garden!
Here are a few highlights of what we'll have at this year's February shows!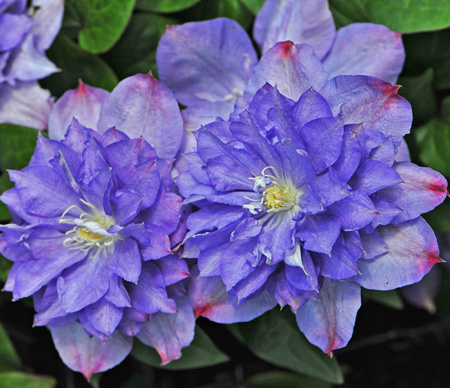 Do you have a
vertical space or border that needs life after spring?
This year we're featuring super Clematis with an emphasis on double-flowering varieties that can be used in limited space, or among shrubs, or in pots.
Do you want to
brighten the shade?
Discover a great selection of shade plants, including lots of hostas - new ones, blue ones, giants, miniatures, unusual colors, and even dusky red leafed 'First Blush - newly introduced and definitely not your grandmother's hosta!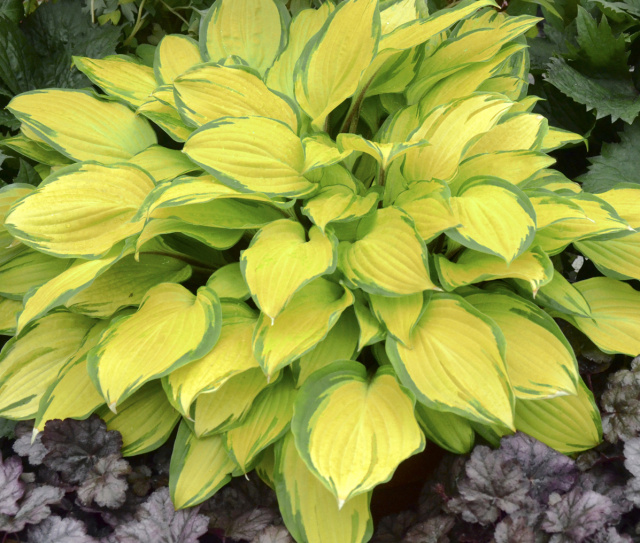 Want to add vibrant color in your bright shade garden or container? 'Island Paradise' hosta practically glows in the dark.
Candystripe solomon's seal lights up early and shows off yummy white-striped foliage all season!
If you love a natural flair, we offer gems like hardy orchids and Trilliums (5 species this year!), all nursery grown.
Other plants for some shade include a nice selection of spider-flowered, easily grown Epimediums that also have fun foliage.
If you're into something different, you can watch the primordial stems of Himalayan mayapple emerge with bronzed umbrella-like leaves. Your shade garden will be never be the same!
Got sun?!
We offer flowers that lure butterflies and hummingbirds, including two remarkably colored poker plants, 'Limelight' and 'Red Rocket', both hard to find and extremely unique!
They're fought over by hummingbirds. Absolutely the best nectaries around!
New and rare 'Jackanapes' is a fantastic compact crocosmia with bicolor blooms that drive hummingbirds crazy. Make way for the hummingbirds!
Want to play the summertime blues? Plant 'Brilliant Blue' Agapanthus, a dwarf form that's one of the most spectacular and hardy.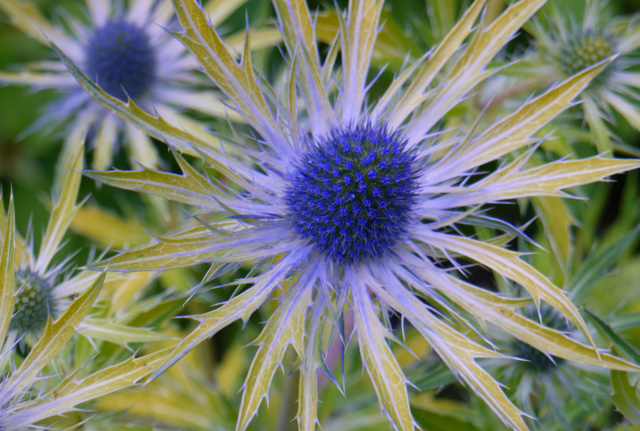 For beautiful combined flowers and foliage, we offer tried and true 'Blue Sunrise' geranium plus a new plant, 'Neptune's Gold' sea holly. Both are amazing!
No sunny border is complete without coneflowers. We've chosen some of the best for the Northwest.
'Hot Papaya' and 'Pink Double Delight' are horticultural dessert treats, serving up weeks of crazy gorgeous (and fragrant!) cut flowers. Resistance is futile. The butterflies think they go very nicely with a nectar chaser.
You can plant longflowering Heleniums too, like 'Mariachi Ranchera' awesome growing among ornamental grasses or in your vase.
For another new twist, we offer spectacular purple variegated Iris 'Dark Aura'. Then there's red Iris louisiana 'James Dickenson'. Yup, red. We'll have the picture in our booth. They're both mindblowing, easily grown, and hard to find.
Just stay out of the butterflies' and hummingbirds' way!
Come find a huge range of easy-care, colorful perennials for shady or bright gardens. You can choose from well over a hundred varieties, many of which we're offering for the first time, as well as classic but hard-to-find heirloom plants. All locally grown.
Don't forget to pick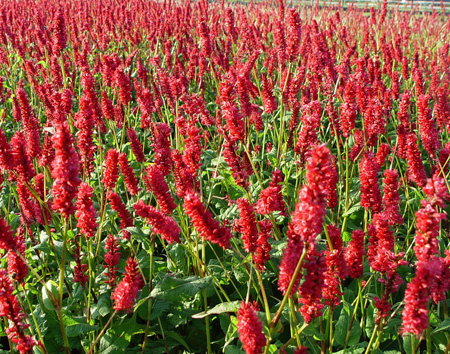 up a 'Golden Arrows' Persicaria for your foliage-obsessed friend. Or expand your Persicarial horizons with the plus-sized profuse blooms of 'JS Calor', a brand new form.
You'll also discover sweet native perennials like Columbia turk's cap lily, true blue camas, colorful columbine, shooting stars, and many more natural garden selections.
If you long for a peaceful existence in spite of everything that's going on (or not going on) in your life, gardening in your yard or containers is one of the most reassuring, healthful, and thrifty ways to dial things back, decompress, connect with nature, stay grounded, treat yourself, create beauty, refresh, and keep moving ahead! We offer gorgeous plants for your containers, garden, and bouquets. Don't wait - enjoy! Butterflies and hummingbirds will visit you for free. These are just a few of our favorite plants!
Satisfy your plant lust without performance anxiety. Join us at the garden show!